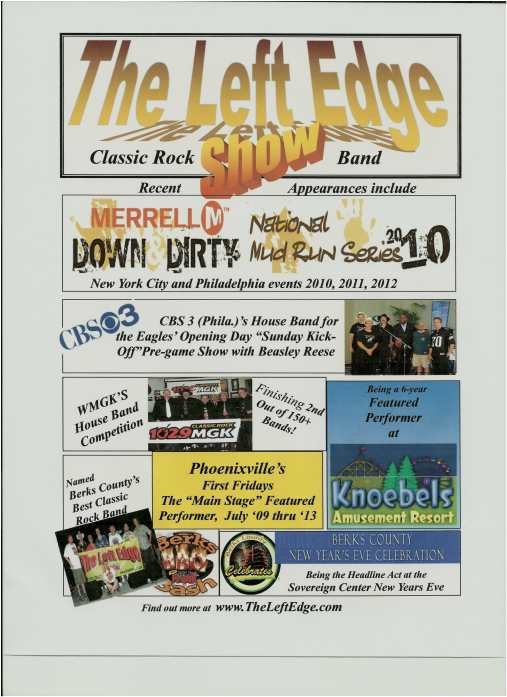 Reviews

Thank You for our Recent E-MAIL
"You guys are fantastic with tremendous talent. Very organized, don't take long breaks, start on time and lay full sets, carry the proper beats on songs, properly adjust your sound for the size of your venue, not blasting people out; but yet loud enough to feel the music and for everyone to be part of the music!"
We had a great evening. We really enjoyed your sets. Great music and great vocals. And most important, for dancing, great timing; BPM per song. You guys nailed it!"
"Thanks for all the great evenings we have had the pleasure of dancing to your music."


Ladies night out of the Free Masons
Tina A has submitted the following review for Gig ID #2498360:
These guys were great and our group loved them. I would recommend this band to anyone looking for a good time to get up and dance to 70s, 80s, and 90s music. Loved all their songs and I never seen so many people dancing at once for our group of 140 people ranging in ages 23 to 92.

Client Ratings
Tina gave you the following star ratings based on your service at their event (1=lowest, 5=highest):
Professionalism: 5
Quality of service: 5
Ability to handle special requests: 5
Willingness to recommend to a friend: 5
Overall satisfaction: 5​

Wedding in Horsham, PA
The Left Edge was AMAZING! So Good!
We can't say enough nice things about them.
Buddy was a pleasure to work with leading up to the wedding,
and they are super talented musicians!
They did our ceremony and reception.
The music for the ceremony was beautiful --
they performed Canon in D.
At the reception all of our family and friends
were very impressed. They did so much dancing and
singing along!
The reception moved along seamlessly.
It was an amazing night
and much of that was due to The Left Edge!! - Catie K ​

Private Party in Wyndmoor, PA
We had a great time and were glad they were a part of the fun. - Tom H

Wedding Reception, Mountain Top, PA
Our experience with The Left Edge was terrific. They were very accommodating and professional and worked with us to put together the music selections and flow of the reception. They even learned our first dance song with only a few weeks notice. There music was great and appealed to both the young and old crowd. Everyone had a such a good time it was hard to even find a spot on the dance floor. I would gladly recommend them to anyone looking for a great band for their wedding. - Adam P
Community Event in Jackson, NJ
I booked the Left Edge for my Clubhouse event...Buddy was pleasant and quite accommodating..Every time I called, he answered or called me back...He always called back the same day if not within minutes of my call. They played great variety of music and all 185 guests commented on how wonderful they are. What was best was they didn't take a lot of breaks like most bands do..We will surely use them again. - Jo-ann T

Wedding Reception in Lancaster, PA
Let's see, first off Buddy from the Left Edge was an amazing person not only to work with but humorous and relaxed. They even learned the Father/daughter wedding song. At the actual wedding they were on time, quiet in set up, and again, very easy to work with. Each individual member was courteous and friendly. Their choice of music was superb. They mixed fast and slow songs together and hit all the songs/bands that my wife and I love. They did the standard wedding dances, and also they just kept the dance floor going. They were by far the most complimented wedding feature that night. They were also fantastic with my 3 year old nephew. A+
- Bob F

Fundraiser in Quakertown, PA
This band is the best A+ We will use them again - Andy Y

Wedding Reception in Hellertown, PA
We took a leap of faith when we hired The Left Edge to play at our wedding reception. I had not heard them play before, but I must say I was very pleasantly surprised and extremely happy with the quality and professionalism of the entire band. They were exactly what I was looking for –-- a rock band playing classics from the 60's and 70's. The band even learned a new song for our first dance with just a few weeks notice. I would highly recommend The Left Edge to anyone looking for a top quality, classic rock band. - Sue R

Fundraiser in Princeton, NJ
They were wonderful and we would definitely consider having them at an event again.
- Laura T

Birthday Party in Coatesville, PA
The Left Edge did an incredible job - Their performance was top notch and I would highly recommend them. - Kristin R

Wedding in Lancaster, PA
They did everything to make our event perfect, were always accessible and never flinched at my requests, which included performing with a brides and I'm still getting compliments on how great they were! They went above and beyond by recording the song with my bridesmaid. I was touched by how special they made our night, felt like they truly cared about us and believe it wouldn't have been the same w/o them. How many people can say that about their band? They were professional/easy to work with. I'm EXTREMELY happy with my decision to have them at my wedding and would highly recommend them.
---